Wow! Got to fish 5 consecutive days over the Thanksgiving weekend. I kicked things off on Thanksgiving day at the Merry Pier in St. Pete Beach. Fishing started a little slow, but soon changed- a school of Bonita came through. Havoc! Everybody up and down the Pier was hooking up- and each hookup was followed by the sound of screaming drags as these hefty, powerful fish peeled off a hundred yards of line (or 200…). People were running madly up and down the Pier, trying to keep from getting spooled. The result:
Now, a lot of peple will tell you that bonita are inedible, and only good for shark bait. They'll say the meat is too bloody and oily, and that you shouldn't even try to consume Bonita. Well, I beg to differ. When properly prepared, Bonita can be quite delicious. It takes some time, some imagination, and a great recipe, but a well prepared Bonita can become an excellent meal. Here's how it turns out when properly prepared:
So, Friday I made the mistake of going out on Miss Pass-A-Grille. The predicted 1-2 foot waves were more like 4-5 feet, and a cold north wind was up at 20+ knots the entire time. Not exactly ideal conditions. I managed 3 short gag grouper, along with a small grey snapper, and, of all things, another Bonita. The entire boat, around 25 people, ended up with a single keeper grouper. Certainly not the fault of the Captain or crew- sometimes Nature conspires against fisherman. It was just one of those days.
The next couple of days were devoted to morning/ early afternoon fishing on Merry Pier, aptly named now that it's decked out in Christmas lights. I had the distinct pleasure of fishing with Daniel from Denver on Monday afternoon- he landed a very nice Spanish Mackeral, his first: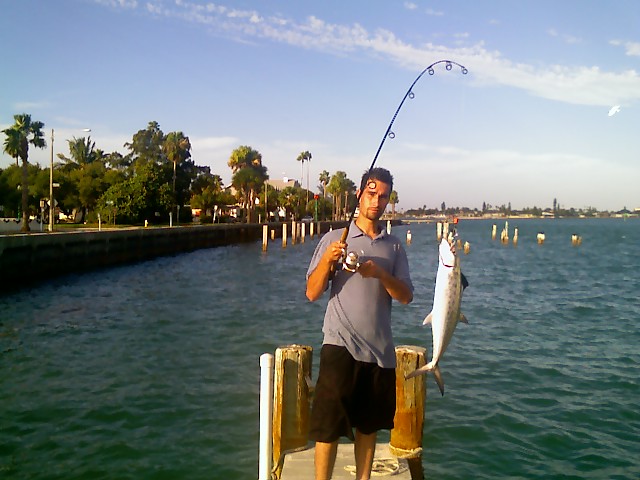 So, for the long weekend the tally included:
Bonita (four of 'em!)
Spanish Mackeral
Grouper
Grey Snapper
Flounder
Bluefish
Lane Snapper
Pinfish
Grunts
Pufferfish
Lizardfish
Squirrelfish
Filefish
A quick note- the baitshop at the Merry Pier has live shrimp, frozen baits, tackle, lures, sandwiches, smokes, cold beer, soft drinks, hats, candy, t-shirts, ice cream, gifts, and a whole lot more. Check it out!