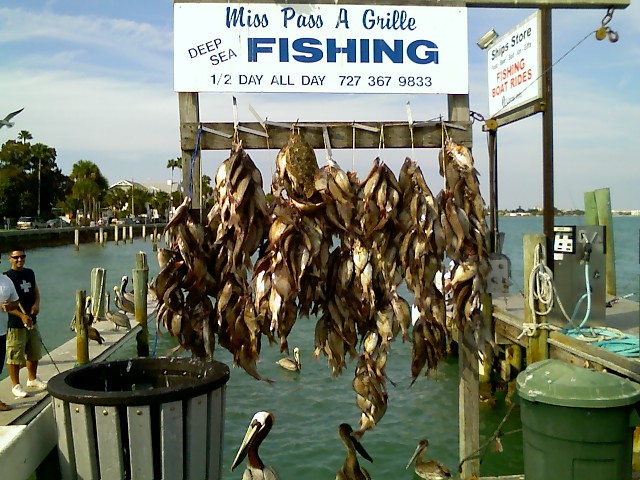 On Sunday, December 23, I headed out on the Getaway with a make-up party consisting of Cap't Dick, Maurice, and his 15 year old son Gabrial. Captain Joe was at the helm, so I knew we were in for a great day offshore.
We left late, around 9, and headed out through the fog. By the time we got to the Tampa shipping channel, the fog was burning off, and the day was looking quite promising. Cap't Joe made a few throws of the net, and we were loaded up with greenbacks and pinfish. We hit a few channel markers on the way out for good measure, adding sardines and blue runners to the livewell.
The first stop was just off of a wreck in 100′. The amberjack were a little finicky, but we still had a limit of tasty 15 to 20 pound fish in about an hour. Next, we headed for a break- when we anchored up, the fish finder was lit like a Christmas tree!
First up was a healthy 15 poung gag. Then we began hauling in red grouper. Some were pretty nice, in the 10 pound range. After limiting out on the reds, we pulled anchor and made a run of a couple miles to the next spot. Again, a great show of fish.
We proceeded to haul up reds, scamp, and mangos. Action was good, but not the frenzy we were expecting. We soon realized that the full moon was the night before- the fish were full and lazy. Still, we did pretty well.
We had lost a couple of BIG (presumed) gags, when Cap't Dicks rod bowed over. He battled a huge fish for the next 10 minutes- we were all expecting a 30 pound gag. Alas, it was a 6 foot nurse shark, which was returned unharmed to the deep.
Fishing conditions could not have been more ideal. Water temps were around 70, winds were 5 knots, waves were under a foot, and the air was a pleasant 75. Amazing, considering that Christmas was just a couple days away.
So, here's the final tally:
Amberjack
Red Grouper
Gag Grouper
Banded Rudderfish
American Red Snapper
Mangrove Snapper
Scamp Grouper
Nurse Shark
Grey Snapper
Porgy
If you ever have an opportunity to go out on The Getaway with Cap't Joe- Don't hesitate. You'll have a great time. Merry Christmas to all!