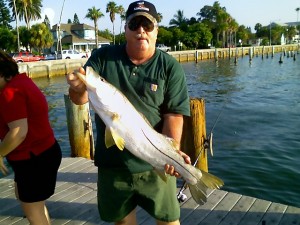 Pictured above is Roger, an outstanding fisherman, with a hefty Merry Pier snook. I managed to get in a little fishing this weekend, between parties, fireworks and the beach. Seems that the bigger fish are starting to get active- I saw a nice tarpon jumped with a pinfish; a 32″ cobia landed after an epic battle; and several other big snook and grouper caught.
As for me, well, I was joined by my friend Jim, his wife Erica and their daughter Jordan on Saturday for a snapper roundup. There were plenty of mangos around, thought they tended to be on the small side. We did manage 5 keepers. But, the highlight of the day was a pair of keeper flounder, the first I'd seen in quite a while. We had an excellent fish fry Saturday afternoon.
A shout out to JayT – he was hammering the snook under the dock using frisky live Jenny's, and snapper on live shrimp. I'm sure I'll be down at the Merry Pier next weekend, so hopefully I'll see you there.