What a weekend! After a tough game Friday, I was wired for a Rays win on Saturday. Cap't. Dick and I headed to Tropicana Field Saturday evening, and, sure enough, we had the best seats in the house – right behind the plate, and next to the on-deck circle. Evan Longoria warms up before going yard: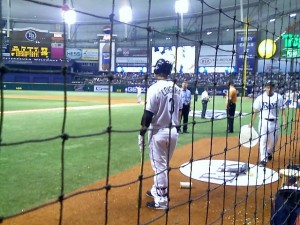 It's a good thing we had comfortable seats… because it was a long game. 5 hours, 27 minutes. The Trop was ROCKING, and the Rays fans were loud from start to finish. We came from behind three times, to win in the 11th inning. The celebration:
It was, perhaps, the Rays best game of the entire, incredible 2008 season. I finally dragged home around 2:30 a.m.. By 8 a.m., I was helping Capt' Dick load up the boat. Tim, Joe, Dave and I then headed out in search of mackerel. We had solid reports that bait, birds and macs were tearing up the beach on Saturday. Well, it was pretty quiet on Sunday. We trolled hardware from the Pass-A-Grille tripod up to Blind Pass and back, and only managed a couple macks and 1 kingfish.
Switching strategies, we headed inside, and saw diving birds by the Tierra Verde bridge. Sure enough, the Spanish mackerel were there, skyrocketing through schools of glass minnows. We ended up with a dozen or so for the smoker, along with a few hard pulling Jack's in the 10 lb range. A fun day, and a great weekend.